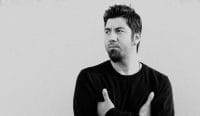 Name: Camillo 'Chino' Wong Moreno (vocals ang guitar)
Birth date: June, 20 1973
Born: Sacramento, CA
Marital Status: single
Educational Skills: High School (McClatchy High School / Fruitridge Elementary School)
Previous Day Job: Tower records shipping department
Favorite Bands: Depeche Mode, Faith No More, Duran Duran, The Cure, Bad Brains, Weezer
Family:
Wife: Risa Moreno
Ex-Wife: Celeste Schroeder
Children: Lola, Kristian and Jakobi Moreno
Mother: Deborah Wong
Father: Camillo Moreno
Aunt: Priscilla
Grandfather: Ernie 'Chino' Wong
Cousin: Regina Nash
Chino's inspiration while growing up: Sports; Mark Gonzalez (pro-skateboarder). Music; HR from Bad Brains.
First record he bought: "Funky Town" by Lipps Inc.
Adrenaline's favorite track: "Birthmark" and "Fist"
Favorite movie: "Star Wars…I've been watching a lot of boxing documentaries. There was this English dude called The Guvnor – that guy was a hardcore motherfucker. I've been watching Ali G's video too. That shit is funny."
Favorite food: ""In Europe, McDonalds. We don't go to many fast food places in America, because food is good and cheap too. It's the opposite in Europe. People don't realize how bad the food can be at times 'cos they're used to it, I guess."
Favorite drink: "Gatorade and Vodka. Quenches your thirst and gets you drunk"
Favorite trousers: "Rustler jeans. They're like Levi's. Same fucking thing, but they cost less."
Favorite cereal: Grape Nuts or Shredded Wheat.
Favorite writer: "As the minute, Charles Bukowski. I'm reading "Women" – it's good to know I'm not the only one that gets driven crazy by a girl."
Favorite Guitar Solo: "'Dirty Movies', off Van Halen's 'Fair Warning' album? That's the shit. I was just listening to that today."
Chino's most important object: His belt.
Wildest thing he have ever done on stage: Diving into the drum set, he says.
Most memorable stage experience: When a girl in the front row got too close, she decided that she was going to bite him in a place that he was going to feel for the next week…
Chino's name: His mom gave him the nickname 'Chino' when he was still an infant because of his strongly Chinese baby features (in Spanish, 'Chinito' means Chinese). It was also his Grandpa's nickname, so it just seemed to stick. According to Chinese astrology, 1973 was the year of the Ox, so that means Chino is 'bright, patient, an inspiration to others, happy by one's self, and possesses the ability to grind nappy quarter pipe coping with much style.' His mom
remembers him as a happy and quiet kid who has always liked music.
Chino Moreno, is the voice of Deftones. "Chino" in spanish means "chinese" and "Moreno" means "brunet"…
He was asked to join the band while he sang a Danzig cover in Carpenter's garage.
He's known by his capacity of taking his voice to the limit, from the strong and tuned screams (defscreams) to the hypnotic and sweet melody that characterizes him. Influenced by Punk/New Wave, with such bands as:
. Bad Brains (Deftones have a cover of Bad Brain's "Right Brigade") – "The first band I heard that made heavy music with a sense of depth. It's very spiritual lyrically. I think subconsiuosly we take a lot from them."
. The Smiths and specially the vocalist, Morissey (Deftones covered The Smith's "Please, Please, Please Let Me Get What I want")
. Weezer (a band that he would agree to join if he was invited, of course, just if Deftones weren't here; Deftones have a lot of Weezer covers like "Say It Ain't So", "In the Garage", "Holiday", "Tired of Sex"…)
. The Cure (the band he first saw live on the Disintegration' Tour when he was 15 years old)
. PJ Harvey (the singer he would like to tour with 'cause she has been a really inspiration) – "Such a huge voice coming out of that little person. I cope a lot of her throat noises"
. Culture Club (Chino disguised as Boy George when he was younger during Halloween)
. Duran Duran (Deftones played Duran Duran's covers like "The Chauffeur" and "Nightboat")
. Danzig (he doesn't know why he stills loving Danzig, he just thought of him as being some cool ass dude)
. Metallica (he loved "Master of Puppets" and "…And Justice For All" he used to listen with Abe during classes that album)
He's always appearing as guest in some bad ass bands like Soulfly, Sevendust, Korn, Strife, Hesher and Cypress Hill. He is also in a side project called "Team Sleep". Team Sleep songs, like "Teenager" are featured on White Pony.