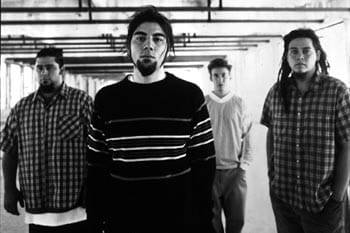 In the middle of the Golden State, about halfway between San Francisco and Reno, Nevada, lies Sacramento, California's capitol and current bastion of Pete Wilson's republican rule. As irony would have it, it is also home to a thriving music scene, And Sacramento's hard-hitting Deftones play a major role. The four members of Deftones, who have enjoyed a tight camaraderie since childhood and have breathed sonic fire into otherwise quiet suburban streets for the past four years, agree that few in the outside world know about it. "Sacramento's a killer music scene," says guitarist Stephwn Carpenter, "but it's just not a great club scene. There's like one good club [the Cattle Club] and a couple of other places, but people really don't go out here much."
But the lack of a proper local outlet for the group to unleash their unique brand of musical fury hasn't stopped them. Instead, they hit the road and began building a following in the Bay Area, Reno and L.A., touring with everyone from Bad Brains and Korn to L7 and Quciksand. After four years of persistent gigging and juggling their day jobs, they worked their way from a demo-to-demo existence to a record deal with Maverick.
"When you're a new band, it's hard to convince clubs in different cities to let you play and pay you–it's not like bands can just travel anywhere at the drop of a hat," says Carpenter, "I mean, nobody minds playing for free half the time, but when it comes to travelling you still have to pay for costs. So it adds up."
In Deftones' case, it has definitely paid off. The band's Maverick debut Adrenaline, which features such songs as "Nosebleed," "Lifter" and the musical "7 words," bristles with determination, frustration and passion. Producer Terry Date (White Zombie, Soundgarden, Pantera) captures the dynamics of the band in the studio without quelling the raw energy behind it, recording much of it live. The 11 tracks are tinged with a variety of subtle stylistic shadings that keep the music fresh. Though he can screech and howl as viscerally as his most anxiety-ridden contemporaries, enigmatic frontman Chino Moreno's vocals also have a melodic flair, notably on "Root" and the suprise 11th track "Fist" (taken from one of the band's earlier demos). That same melodic sensibility often creeps into Carpenter's abrasive guitar for interludes of harsh tunefulness.
"I think that one of the best things we have going for us is our dynamics," Moreno says. "There's never too much of anything. It's not like there's a real heavy song and then a real soft song. Each of our songs contain many different levels." just as the band refuses to be pigeonholed sonically, they also remain abstract lyrically , preferring to express themselves more in a stream-of-consciousness fashion. Like many of their influences, (the band cites a wide variety ranging from Jane's Addiction to Bad Brains to Smashing Pumpkins) the band never stops long enough to be pinned down, which definitely keeps things interesting.
With "White Pony," their third Maverick album, Deftones have made a record as erotic as it is brutal, as dynamic as it is hushed, as relentless as it is gentle, as hooky as it is experimental, and as lush as it is tight. Firmly grip your nerves and prepare for the defining sonic rush — this "White Pony" offers an emotional ride, with great rewards for those who survive it.
"I see boundaries more clearly now than I used to," says singer Chino Moreno. "I'm better at toying with people cerebrally than I was a few years ago. I'm better at fucking with your head."
Deftones were formed back in 1988, but their first debut was only in 1995, at that time we met Deftones with "Adrenaline," a combustible compound of razor-blade riffs, rumble, rage, and rap-ish delivery. The record, besides selling a half-million copies, laid the foundation for the heavy movement that followed and continues today. Even then, we heard hints that this was not a band concerned with traditions or bothered by musical borders. Around the tempestuous bursts of hardcore were passages of eerie quiet and vulnerability. There was something pretty in the skirmish of feedback and cymbal wash, a mermaid surfacing in a mossy swamp. Chino knew from the get-go that nothing enduring is ever obvious and so opted not so much to outright tell a story, but rather cloak it in imagery for your imagination to undress. As he sang in that album's "7 Words," "You and me are here alone, face flat along the edge of the glass."
"I get letters from kids talking about how a certain song affected them or comforted them," Chino says. "Their idea of what it means is completely different from what I was feeling, but I would never tell them that. If something affects you at all, it's good."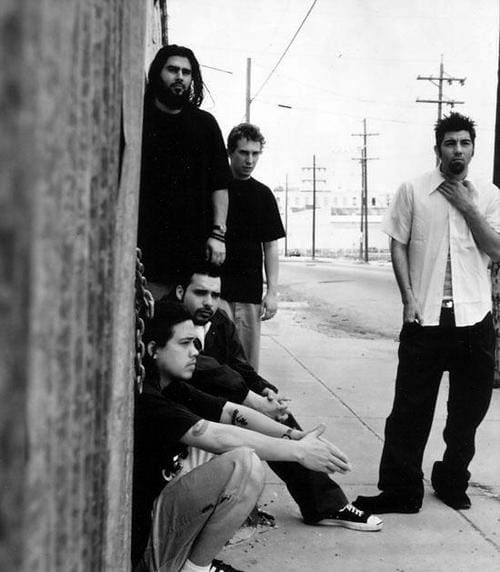 Two years, countless packed houses, and one major riot in Arizona later, the guys delivered "Around The Fur." No less ferocious than its predecessor, the album was pure passion and well evolved beyond the standby whisper-to-scream trick. Deftones spread to both extremes, seeking the logical limits of guitar savagery while flirting with a Gothic or New Wave sense of spook and haunting sparseness. Chino was more aware of himself and better able to translate what obsessed or enraptured him into his words. "There's still blood in your hair and I've got the bruise of the year but there's something about her long shady eyes," he sang in "Mascara."
Rock and alternative radio played "Be Quiet And Drive (Far Away)," and MTV played the video for "My Own Summer (Shove It)," a creepy clip (and apt analogy) showing the band playing atop floating cages while hungry sharks circled below. Ceaseless road work followed, including stints on both Warped and Ozzfest. Somehow in there they found time to cut a mesmerizing version of Depeche Mode's "To Have And To Hold" for an album saluting the synth-pop progenitors. When they played Detroit with Black Sabbath on Valentine's Day, 1999, they were unfazed when all their gear was stolen in a van robbery. "Around The Fur" went Gold. Eventually, Deftones returned to Sacramento and began the soul mining and arrangement experiments that would become "White Pony."
By this time, the neo-hardcore sound the band had been so instrumental in pioneering was the toast of our nation. Countless acts ran to the proven formulas, but the Deftones saw no need to revisit the past in creating "White Pony," only a need to satisfy themselves.
"We've never talked about it, about finding a 'Deftones sound,'" says bassist Chi Cheng. "We don't want to find a certain sound, and settling on a certain sound is not a good thing. I think that's why our albums keep progressing, because we're going with what we feel is right at that moment, not what we think we're supposed to do."
Co-produced by the band and Terry Date (who did both of their prior efforts), "White Pony" was cut at Sausalito, CA's legendary Plant Recording Studios and at Larrabee Sound in Hollywood. The process was not speedy, but the results, musically and emotionally, are stunning. Stephen Carpenter's wall of wash and wail stretches from here to the cosmos; Chi's bass falls like a ten ton anchor; Abe Cunningham's drums are beaten senseless; and Frank Delgado dots the landscape with found sounds and needle drops while Chino unleashes surreal tirades and unloads his cargo of uncertainty and longing.
A siren riff opens "Feiticeira" ("a game show I read about in Brazil. If you win, you get to drink milk from the host's navel. Somehow it evolved into a pretend scenario about being kidnapped," Chino explains), and you're off on a volatile, visceral journey. Stops include a blood raw hail of bullets ("Elite"), a warm slab of murderous love ("Knife Prty"), and one ascending and ambling album closer ("Pink Maggit") that manages to be simultaneously infectious, progressive, expansive, and claustrophobic.
Tool frontman Maynard James Keenan co-wrote and volleys vocals with Chino on "Passenger," an aphrodisiacal road trip of echoes and twinkling keys punctuated by explosive choruses.
"It's about being the passenger in a car with a girl who's taking you around the world, literally, sexually, in a whirlwind of time," Chino says. "I can barely tell where I end and Maynard begins."
Chino's hallmark abstractions paint even richer pictures than before. They float from his mouth when he hushes, and fly from it when he howls, and in both cases, they're something for the deepest corner of your mind to untangle. In "RX Queen" he sings, "We'll fly farther cause you're my girl. And that's all right if you sting me, I won't mind. We'll stop to rest on the moon and we'll make a fire."
Of Chino's challenging, visual sense of lyricism, Cheng asks, "What's good about listening to a song and knowing exactly — to the word — what the singer is talking about? It's like a good painting or a good book. I never ask Chino what something means, I want to know what it means to me."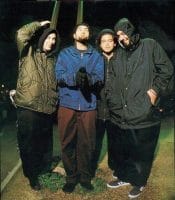 Midway through "White Pony," you'll encounter the most beautiful thing Deftones have ever done – a song called "Teenager." Built of swirling loops, dripping, trip-hop beats, and a delicately plucked guitar, the song flickers like to many midnight stars on a night of sad nostalgia for the innocence of high school love. Chino's voice floats and climbs softly around the interwoven textures of a track that will surprise you in the best way.
"I love to look back at times like that," Chino says. "That was when you could take a true, deep breath. You didn't have anything to worry about except 'does this girl like me?' That was as intense as it got back then."
"White Pony" has nothing to do with trends or cliques or market surveys, and everything to do with five guys' unswerving commitment to follow where their hearts and heads take them, be it somewhere abrasive, angry, seductive or scary. Deftones have an unquestionable passion for music, for the release you feel in booming drums, screeching feedback, and gut-born screams and the headspace created by moments of stillness. If you can't feel that desire and intensity on every second of this album, you're numb beyond repair.
It's a realm immeasurably enriched by everything that's gone before. From the one-two punch of Adrenaline (1995) and Around The Fur (1997) to the breakthrough success of 2000's Grammy-winning platinum-plus seller, White Pony featuring the smash hit "Change (In The House Of Flies)," Deftones makes a huge leap into a vast new sonic space, fueled by nearly two years of non-stop global touring that took the band from the US to Europe, Asia, Australia, South America and back again. "We couldn't sit still," asserts Stephen, on the genesis of Deftones. "We had built up a lot of creative steam on the road and were hitting on all cylinders. You can't just turn that off. We tried relaxing and living like regular civilians but it wasn't happening. We'd forgotten how." "We kicked it for about three months," continues Chino, "then got bored. We drifted back together, started writing songs and messing around at The Spot, the rehearsal space and studio we had built for ourselves. And we could tell immediately that we were on to something." "It just came naturally," asserts drummer Abe Cunningham. "Playing in the studio is just an extension of playing live for us. We have the same focus and energy, the same way of making it a party no matter what's going on around us. It's been three years since we put out White Pony and we were under a lot of pressure to follow it up. We just ignored all that shit. When the time was right, we all knew it."
By the summer of 2002, the time was definitely right. The band had brought their music to a whole new level thanks to a blistering touring schedule that kept them sharp, focused and formidable night after night. "This is our life," asserts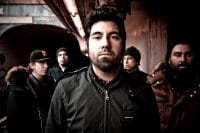 Stephen. "We are a band. We eat, sleep and everything else you can think of together.as a band. We don't know another way." It was a common bond also forged with fans around the world. "People are the same wherever you go," says Chino. "And music is the same in any language. I could tell you we were surprised about the way people reacted to us no matter where we played. But we weren't. It was like the same party everywhere, just different directions to get to the place." Those directions eventually landed the band back at their home base in Sacramento. "We planned on lying low for six months," Chino explains. "But the music just kept pouring out. All we could do was stand back and let it happen." "I was throwing away more licks than I was keeping," adds Stephen. "I figured there was always more where that came from. We all just tried to stay in the moment, focusing on what was in front of us and giving it everything we had." "We had to work to stay ahead of ourselves," agrees Chino, adding that producer Terry Date had his hands full keeping control of the torrent of music the band was generating. The result is Deftones, an album that punches through to the next dimension of the Deftones' utterly original sound. Featuring such blazing standouts as "Needles & Pins," the dark, smoldering "Deathblow," the jagged, scrawl of "Battle-Axe" and the blistering yet unnervingly melodic first single "Minerva," Deftones takes the band off the road, right through the studio and straight into your ears.
The meaning of "Deftones" (by Stef Carpenter):
"I listened to a lot of rap at the time, but, I always imagined being in a band but I could never pick out a name. I was like, "how do bands just pick their names?" You know, some bands, you got these metal bands that try to make their name all ugly and whatever. I wanted to pick a cool name, something that would just stand out but you know, not be all cheese-ball at the same time. Well, I was really into old classic music, like from the 50's and shit like that. I was like, "Tones," you know there's a lot of bands from that era that has "The Tones" in it. And "Def," just cuz I listen to a lot of LL COOL J, Public Enemy, you know, like Def Jam and all that. Then I thought, "Deftones," that would be kinda cool. Def would be mean "cool" and Tones would be like. the sound of the old days but being vague. cuz we didn't do just one kind of music. It was pretty heavy, but it has never been focused on one particular style of music."