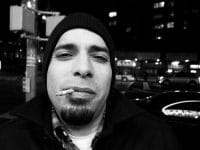 Name: Frank Delgado (turntables)
Birth date: November, 29 1970
Born: Sacramento, CA
Marital Status: Married
Educational Skills: High School
Family:
Wife: Stacy Delgado
Mother: Florence
Father: Frank Sr.
Children: Frank will be a father soon…
Brothers: Chris, Robert and Robbie 'Bobby' Nero
Biggest Musical Influence: The Deftones – "I learn a lot from their tastes and that is what's really important."
Favorite Group: Quicksand
Favorite Records: Ice T "Rhyme Pays"; Faith No More "Album of Year"; Quicksand "Slip"; Ultramagnetic MC's " Critical Beatdown"
Favorite Soundtrack: Tangerine Dream
Favorite Record Store: Records on K Street in Sacramento
Favorite Concert: KRS-One at the Smoke Out in Orange County, CA
First Concert: Jose Feliciano at Magic Mountain when he was 6
Favorite Performance: Opening up for Bad Brains at the Whiskey in 1995. "I never thought I'd get to see all the original Bad Brains play and blow it up like they did. It's still one of the most vibrant shows for us."
Favorite Moment in Studio: "All of us sitting around hitting the 5-hose hooka before we went in there and layed the track down."
Favorite Musical Equipment: Akai MPC2000
Favorite Movies: "The Elephant Man"; "Eraserhead"; "The Shinning"; "Grease"
Favorite Movie Director: Alejandro Jodorowsky
Person he was exited to meet: Prince
Person he would like to meet: Africa Bombatta
Person he would spend a night with: Elizabeth Hurley, Christy Turlington
Sexiest songs: Lionel Richie: "Can't Slow Down" / Prince: "Purple Rain"
Frank Delgado is the man behind the strange noises. He's the DJ on service. He made for example that solo on the end of "Fireal" and "Headup", the "breathing" on the begin of "Minus Blindfold" and some scratchy on "My Own Summer" and more of course. Now with the "White Pony" he's an official Deftones member, he's almost on every track of "White Pony" and he sure gave a bit more of development and originality. He started in a band called "Socialistics" from Los Angeles (they used to open concerts for Deftones), and swiftly Deftones recruited him for some workings.