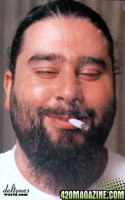 SOL INVICTO, the side project of DEFTONES guitarist Stephen Carpenter and Richie Londres from the C.L.P. (CULTURA LONDRES PROYECTO) on production/guitar, has made its debut EP, "Initium", available for free download at this location. The project is described in a press release as "twisted cinematic drum 'n' bass mixed with the tones of Stephen Carpenter and tribal percussion of CYPRESS HILL's Eric Bobo.
"Initium" features guest drummer Zach Hill (HELLA, TEAM SLEEP) who originally joined the project for the recording back in 2008.
SOL INVICTO plans to release a further two EPs over the next couple of months.
Commented Londres: "'Initium' is our way of introducing the SOL INVICTO project as we build towards the debut album. We wanted to make it available for fans for free; they have been very patient, it felt like the right thing to do.
"We have two EPs in the production stage which will feature Dan Foord
(SIKTH) and the plan is to get these out by the end of September. We are not tied in to any labels right now. It's great that we can just make and release music instantly without anything holding us back."