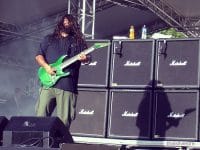 At the Zetafest 2000 show at the Bicentennial Park in Miami, FL (July 23rd 2000) something really weird happened with Stephen Carpenter. During the whole show this man was pissed off with the crowd or something. While they were playing "Bored" he was really mad and he threw 2 guitars against the other side of the stage. Some songs after they played "Root" the crowd started to mosh so hard and stupidly, then Steph stopped playing and said "we just told you motherfuckers to be careful and you assholes keep fucking around you're gonna get hurt, and if I could I would come down and kick your ass motherfuckers" and he just walked away threw the mic to the floor and threw again one of his guitars which they look so clean and cool… madness420@aol.com
Another point of view on this: I was at the show and the whole time (not just during the Deftones) the guys were taking it kinda rough with the girls, pushing them around and groping them while crowdsurfing and no one was doing anything.  So the band was mainly pissed about that and they stopped the show several times which I guess created a trend because all the bands after that stopped playing whenever they saw someone getting hurt.  Unfortunately for me, I got kicked in the face and broke my nose right before the Deftones came on, kinda ironic huh?   Liz H.
This show was taped and it is one of my Deftones bootlegs, so I watch it and I've never seen Stef, so furious like in this concert.
———————————-
One week after I post this, my friend Matt asked Chi about this incident…
Matt: Is this true?! What made Steph get so angry? Did you guys cut your set short because of it? Did you guys feel the same way as Steph? I was just wondering this because I've never heard of any of you guys being so angry at a concert. I'm sure he had a good reason to be pissed anyway…
Chi Cheng: hello matt – good question. i think he was pissed at all the mindless agression in the crowd. were really not into anyone getting hurt. personally, i thought it was funny how mad he was, but seems like a good enough reason. thanx-chi