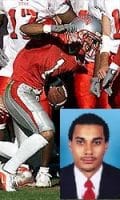 Bobby Nero is Frank Delgado's brother. Fame is often a by-product of being in a big band like the Deftones. While a Deftones member, Frank Delgado is not the most recognizable Deftones member, but he is fairly well-known. But despite what Frank might accomplish in his band, he probably figures not even to be the most famous member of his family. In California everyfootball fan knows Bobby Nero, he joined the UNLV Rebels in 2000 to play as a wide receiver.
Here's a piece of an interview (by the time Frank was receiving a Grammy Award):
"I was going to class, and my mom called me on my cell phone," said Nero. "She said, 'He won it! He won it!' At first, I didn't know what she was talking about, and then it clicked. I let him enjoy it for a day, and then I called him. I congratulated him and, man, he was just tickled pink. I was, too. Having a Grammy in the family is like having a Heisman Trophy."
So does Nero automatically get back-stage passes?
"If I was in the NFL, would my parents not get front-row seats?" Nero said. "Of course, I get the back-stage passes and all that. … Anytime he comes to L.A. or Vegas, anywhere around here, we go." Away from the concerts and trips back stage, Nero is hoping for a bigger role with the Rebels next season.
Last year, his first with UNLV, Nero had eight catches for 131 yards and three touchdowns.
Check HERE Bobby's profile, it will probably help you to know more about Deftones' DJ, Frank Delgado.