The new millennium was less than a week old when Deftones decamped to a Hollywood mansion to begin work on their third album.
They were already in imperious form: their two previous albums – 1995's Adrenaline and 1997's Around The Fur – established them as one of the most acclaimed, innovative and incendiary bands to emerge in the '90s. And a lot of bands (not to mention labels) were getting rich by peddling a brain cell-deficient strain of their musical DNA. But while Deftones – alongside Korn – were hailed as the founding fathers of the ascendant nu-metal scene, that very notion rankled with them. Instead of pride, they felt constricted – prisoners of association to a scene they never intended to create.
What was needed, then, was a defining artistic statement – a clinical, inarguable separation from the endless procession of baggy-jeaned angst reciters they had left in their wake. White Pony would eventually prove to be just that: a grandstanding realisation of their bid for individuation.
Between indulging in rock'n'roll excess and frequent spells on Tony Hawks on the PS1, together frontman/guitarist Chino Moreno, guitarist Stephen Carpenter, bassist Chi Cheng, drummer Abe Cunningham and turntablist Frank Delgado found a way of re-forging their signature sound. Applying a rich sense of ambience and atmosphere to their music, Deftones tempered their innate ferocity without diluting. With Terry Date on production and some magnificent guest vocals from Tool's Maynard James Keenan on Passenger and Rodleen Getsic on Knife Party, the outcome was an 11-track body of work that continues to beguile listeners to this day.
Part of the enduring appeal of White Pony is its marriage of music that hits immediately with oblique lyrics that often defy direct interpretation. Then again, you don't need to understand what Chino means when he sings 'I taste you much better off teeth taste' on Korea – you just feel it. What's more, for all the poetic abstraction on offer, there remains a vivid cinematic quality to the narratives of songs like Change (In The House Of Flies), Digital Bath and Passenger. Abductions. Drug-induced hazes. Sexual fantasies. Doomed teenage romances. Murder via kitchen appliance and bathwater. Religious visions. In many ways White Pony is an album just waiting to be turned into a David Lynch film.
Released 20 years ago on June 20, it debuted at Number Three in the United States – catapulting the band onto the same shiny MTV shows and countdowns that typically featured Britney Spears and the Backstreet Boys. Here, then, is an album that belongs in a rarefied fraternity of classic albums such as Nine Inch Nails' The Downward Spiral, Soundgarden's Superunknown, Tool's Lateralus and Nirvana's In Utero – a defiantly dark, scrupulously artistic and profoundly anti-commercial record that somehow tapped into an audience of millions worldwide.
Naturally, as with Adrenaline and Around The Fur, bands tried to imitate it, but this new blueprint was too complex to mimic (insert your own Shite Pony examples here). Bands could approximate the energy of Deftones' music, but not the nuances, the musical intelligence and the lyrical abstraction. The Sacramento band had reached a summit even their most accomplished of peers could not.
Here, to mark the 20th anniversary of this classic album, what follows are collated observations and reflections given to Kerrang! over the years by Chino Moreno and Abe Cunningham on the classic album that left indelible hoofprints on modern rock music…
It All Started With The Artwork
Chino Moreno (vocals/guitar): "White Pony was definitely the only record up to that point where the art came before the music. I said I wanted to call it White Pony – there's an old '80s song [by Danish duo Laid Back] that has this line in it: 'If you want to ride, ride the white pony.' It's a total drug reference. I looked on clipart for a free art outline of a pony and said I wanted that to be our thing. We were going to call the record White Pony before any song was written. That was the only time we ever did it, and it's crazy how iconic it is now."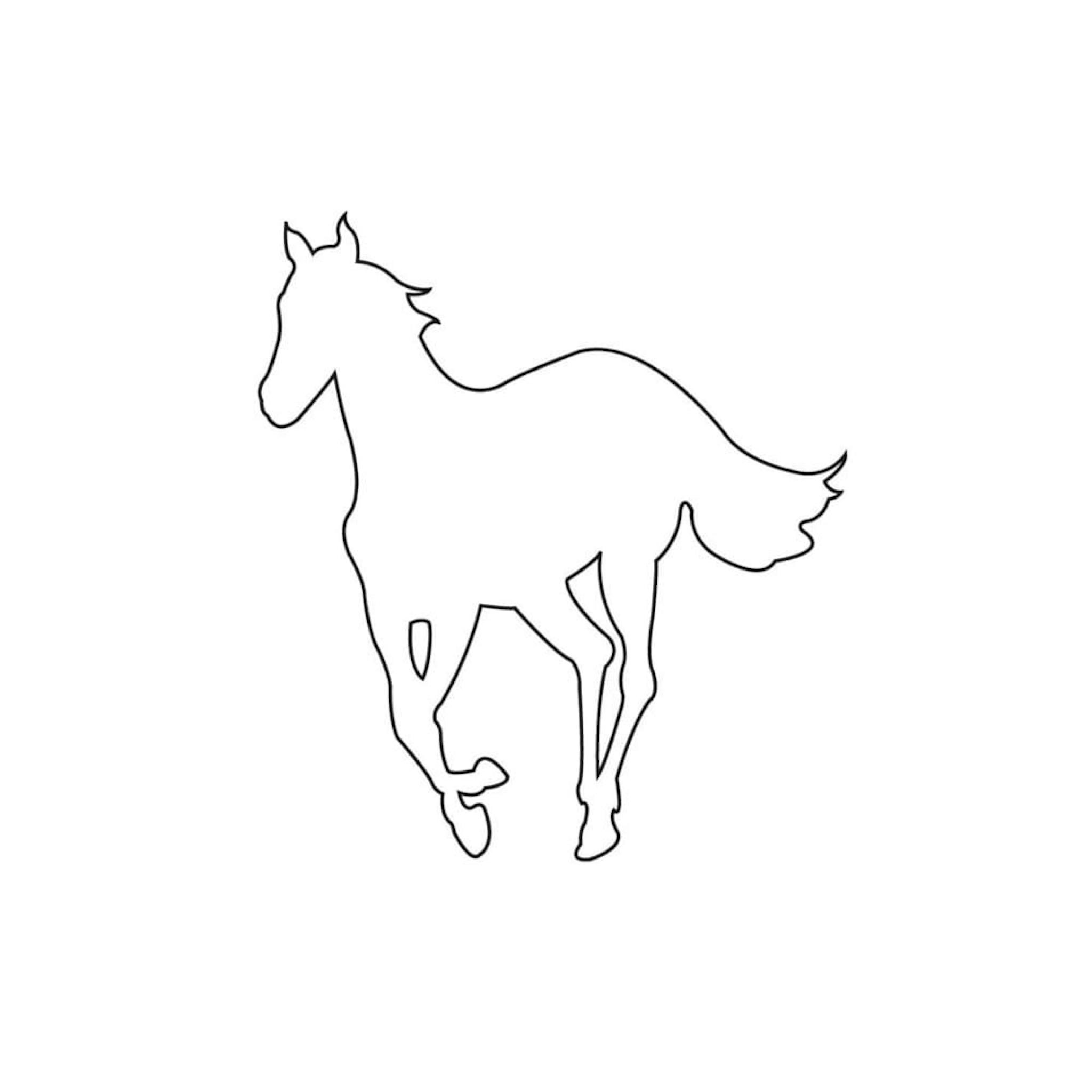 They Knew They Had To Change Things Up
Chino: "When we went into it we didn't have an idea of what kind of record we wanted to make, but we knew we wanted to do something different, a little bit left of centre. At that time, especially after Around The Fur, a lot of bands were coming out and the nu-metal stigma was starting to brew and we were getting tossed in with that whole category of music. White Pony was our answer to it, just to get experimental and try different things and not follow any formulas that we had stumbled upon before."
Abe Cunningham (drums): "It was our stand against everything that was going on at the time. I just think of it as a beautiful white horse running free – and at the time that white horse running free was us! In the scheme of things at that time, all the stuff that was going on musically – trends and whatnot – it was very important to us to go somewhere different. We took a hard left and went the other way and carved our own path, which we'd been doing the whole time anyway, but that was intentional."
There Were Some Creative Tensions Simmering In The Studio
Chino: "We went through a whole lot of shit trying to [record] it; it was probably the hardest record to make at the time. For one, when I started playing guitar that caused friction between me and Stephen. My intention when I started to play guitar wasn't to take the band in a different direction, I was just in a very creative space and just writing music and coming up with stuff. Stephen didn't mind at first, and I think the first song we wrote together was Change (In The House Of Flies), which was the big single off that record. We wrote that together, and were like, 'Wow! We did this!' I know that he wasn't too happy about me playing guitar, but he couldn't deny the fact that we wrote a great song. What eventually happened was that he and I, without making it apparent, were trying to outdo each other. He would write a song like, say, Elite and I was like, 'That's an awesome, heavy tune,' and then I'd say, 'Look at this!' and I'd written Digital Bath. We kept trying to outdo each other and in the meantime we were building a big tower of music, and songs that were great. It actually ended up working out in the long run."
They May Have Enjoyed The Odd Party Or Two While Recording
Chino: "We did put a lot of blood, sweat and tears into it, but we kind of lived wild when we made it. We all moved into this big house in the Hollywood hills right after New Year's, on January 2, 2000. It was a wild time. I didn't have, and never really do have, a definitive idea of what I'm going to sing about or what I'm going to write about lyrically. But everything I was writing about at the time, to a certain extent, I was kind of living. It was five guys living in this mansion, sleeping very little, and with our heads buried in music… We were all living like there was no tomorrow, and there's a lot of stuff in there, lyrically, that I was singing about that was going on from Knife Party and Digital Bath – a lot of psychedelic, drug-induced songs. That was actually what was going on at the time."
Abe: "We were loud, young men having a blast! We had a pretty large recording budget, whereas our previous records were done pretty cheap. Going into these sessions we had budget – and we spent it! We worked really hard, but there was a lot of excess…"
It Taught Them Some Lessons About The Music Business
Chino: "I felt its success was well-deserved. I was extra-cocky, too, because White Pony was not a nu-metal record. At that time in the charts, higher than us were bands that were spawned from what we started but were doing it intensified by 100. Limp Bizkit was an intensified version of Adrenaline. I knew why people liked it, but my instinct was, 'Fuck that, I want to do something completely different,' which we did. When we were successful with that, it made me believe in myself and to follow my heart in doing what we do… I do wish the record had never got re-released [with Back To School as the first track], that was like an 11th hour [decision]. The label told us how great the record was, and after the press and fans did too, and it was selling, it was like, 'You can get more out of this!' It was a lesson learned in greed, you know what I mean? Because that's what it was, it was a greedy move by the record company and, by default, us."
It Did A Lot To Ensure Their Legacy
Abe: "It's our best attempt at trying to meld all the sounds we love into one thing, and I actually think we really pulled it off on that. People obviously like us for different reasons, some like the harder stuff, some like the softer stuff, and that record just encompasses everything at once. It's a pivotal cornerstone in our existence and a favourite of many people who dig our music. I have nothing but good things to say about this White Pony now it's an older horse. We branched out, and that's probably why we're still around today."
Chino: "I'm really proud of it. It's a really dynamic record, it goes through a lot of peaks and valleys, and that's what, to me, makes an album really interesting: you don't just hear the first couple of songs and you've heard the whole thing. Every song goes somewhere else, and comes back full-circle. I love it."
Read this next:
Posted on June 20th 2020, 9:00am


Text source from: https://www.kerrang.com/features/deftones-an-oral-history-of-white-pony/