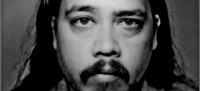 Name: Chi Ling Dai Cheng (bass)
Birth date: July, 15 1970
Born: Sacramento, CA
Marital Status: Re-Married
Educational Skills: College English Major
Previous Day Job: Flower shop
Family:
Wife: Colleen
ex-Wife: Adrienne Cheng
Children: Gabriel Kahlil (Sep 1998)
Mother: Julie
Brother: Ming Cheng
Chi Cheng , the bassist of the band. We really don't listen very well this instrument and some people don't give the deserved value that it really deserves, but I can tell you that without it the band doesn't sound like Deftones! Chi his one of the greatest on his art. Groovy when he wants to, melodic when Chino needs the most…
One of his favorite hobbies is reading that's why is called the intellectual/philosopher of the group. Chi is a Zen Buddhist.
Chi likes reggae, jazz, old blues and is also a metal man, Iron Maiden is his favorite band. It was an Iron Maiden record that he first ever bought, it was an Iron Maiden gig that he first saw. He considers Steve Harris, Iron Maiden's bassist, is bigger influence on his career.
Now on Deftones he describes it like a "fairy tale" because he never dreamed that those kids that just liked to have a jam once in a while, could reach fame has they reach.
Chi released on July, 2000 his debut solo album. It's called "The Bamboo Parachute" and it's a collection of 25 riveting and eclectic poems… "It is pretty wacky stuff. I'll read something to my wife, and she'll look at me and say, I don't know what the hell you're talking about" (chi)
If Chi was invited to tour with someone, he would chose Bob Marley, and a woman to date maybe Laureen Hill from the Fuggees.
Chi's favorite albums are: 'Jimmy Cliff – The Harder They Come' – " In my humble opinion, the greatest reaggae album of all time"
'Thelonious Monk – Straight No Chaser' – "I'm not sure anyone pushed the envelope – musically, mentally or spiritually – with as much class and inviduality as Monk. On of the heaviest albums ever written."
Chi was most influenced by: 'Charles Bukowski' – "He's about the beauty of being honest and raw. It's not always glamorous, but it's real. We should get a dose of reality occasionally – It's part of the whole."